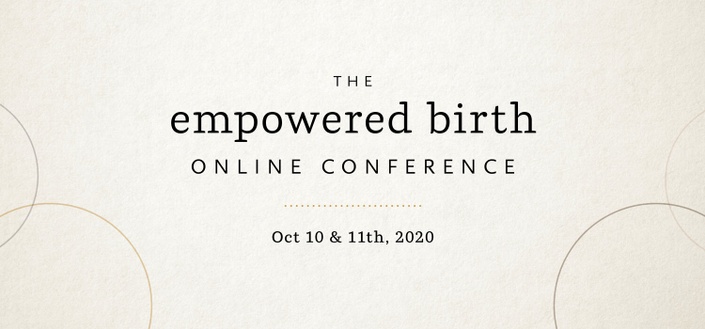 The Empowered Birth Online Conference
Empowered Birth in the Age of Covid-19
This is an unprecedented time to embark on the journey of parenthood. In this online weekend mini retreat you will learn practical hands on techniques to support a confident and active birth during COVID-19. Learn powerful tools from world renown experts in the field of birth from the comfort and convenience of your home. Join us live or watch the replay.
Join other parents and birth workers as we gather and prepare for a joyous and empowered birth.
Originally held October 10th & 11th, 2020
NOW AVAILABLE AS PRE-RECORDED EDUCATION!


---
FOR BIRTH WORKERS
You've been working through the pandemic and are TIRED! You want to learn something new, get re-motivated to continue to support families...who need it more than EVER before. Come and get a re-fresher on some topics we talk about every day. Maybe you'll be inspired to teach it in a new way? Come and hear from some of our speakers on new research and evidence and how to better support families. Course is approved for 7 Contact Hours from ICEA.
FOR PARENTS
Your prenatal classes have been canceled and you're looking for information? But more importantly you're looking for inspiration for how to navigate the last weeks and months of pregnancy, your birth, and your early postpartum experience?
We know that this time isn't what you imagined it would be. We are committed to creating sacred space for you and your birth partner(s) and share tools and education so that you feel empowered in confident on the most important day of your life. Join us for this special birth education retreat celebrating expectant families. Learn birth partner support, gentle prenatal yoga, practical pain management, what to expect in pregnancy and birth, creating sacred space in any setting and more.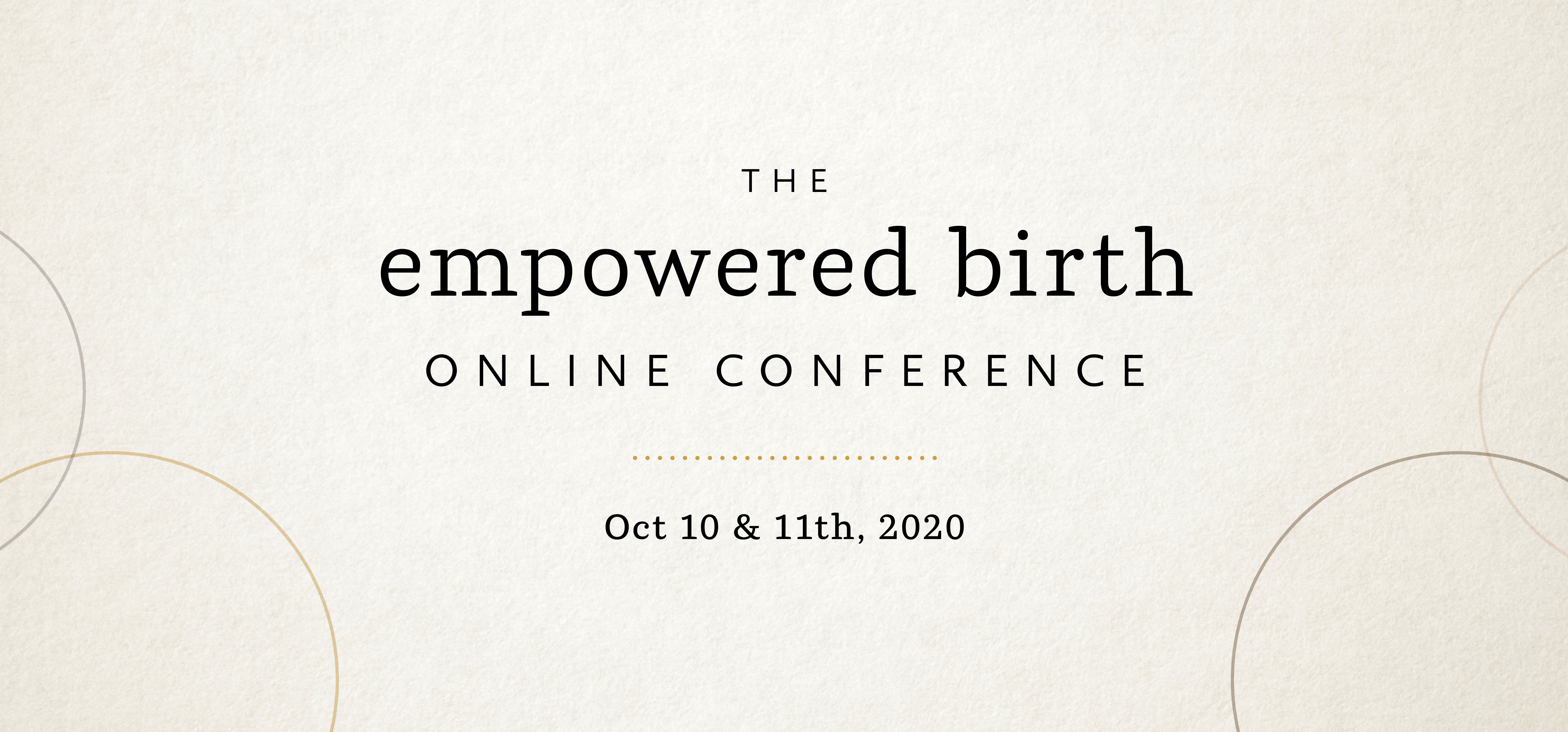 Hear from leading experts on the topics of:
Late pregnancy health and wellness
Physical and emotional aspects of labour and birth
Yoga and breath work for relaxation and to prepare for labor and birth (we will have a 2 full yoga classes during the retreat that even beginners can do!)
How to have an empowered birth during Covid-19
Comfort measures and partner support tools to enhance the childbirth experience
Massage techniques and acupressure to enhance relaxation
Awareness and informed decision-making
Postpartum recovery and more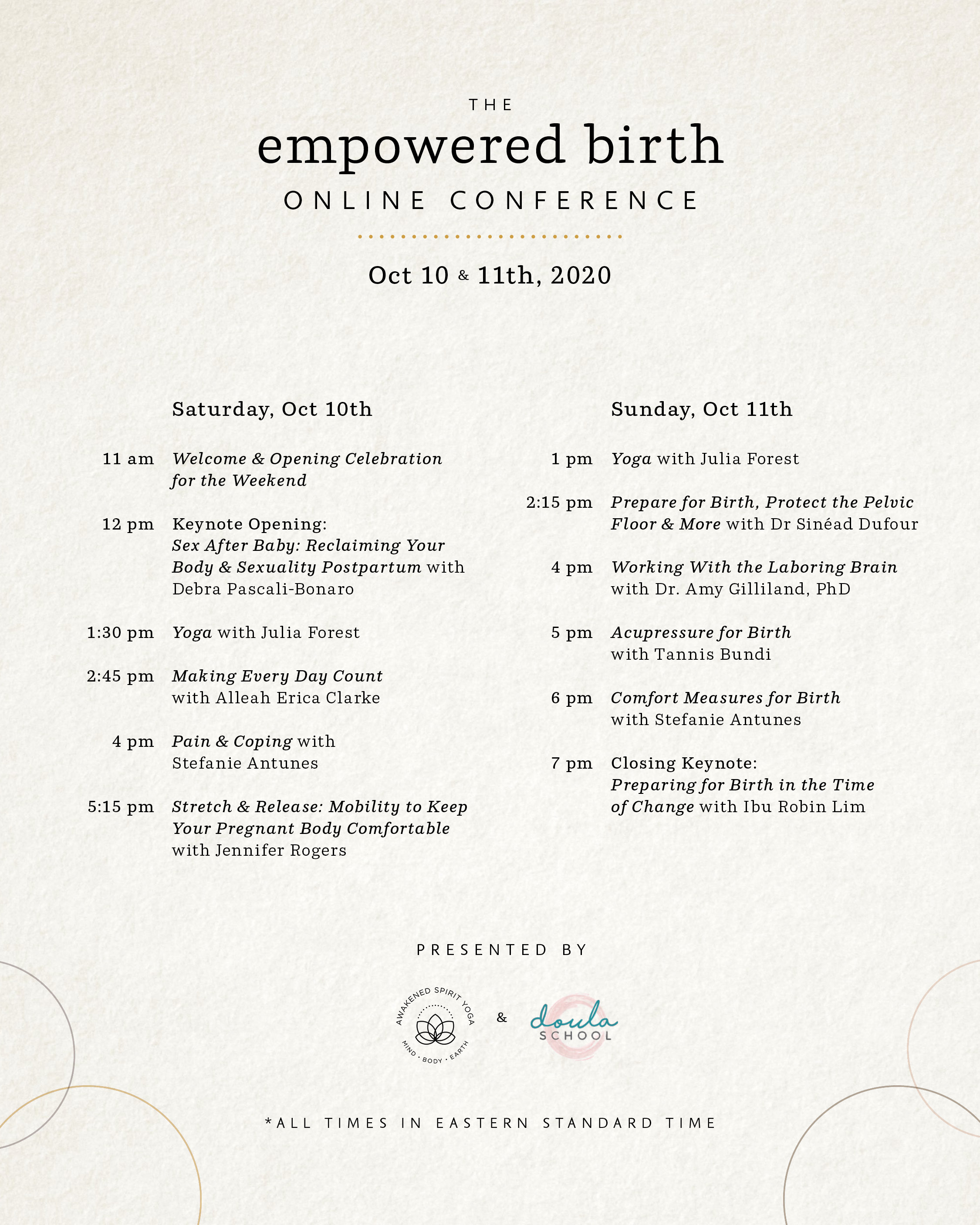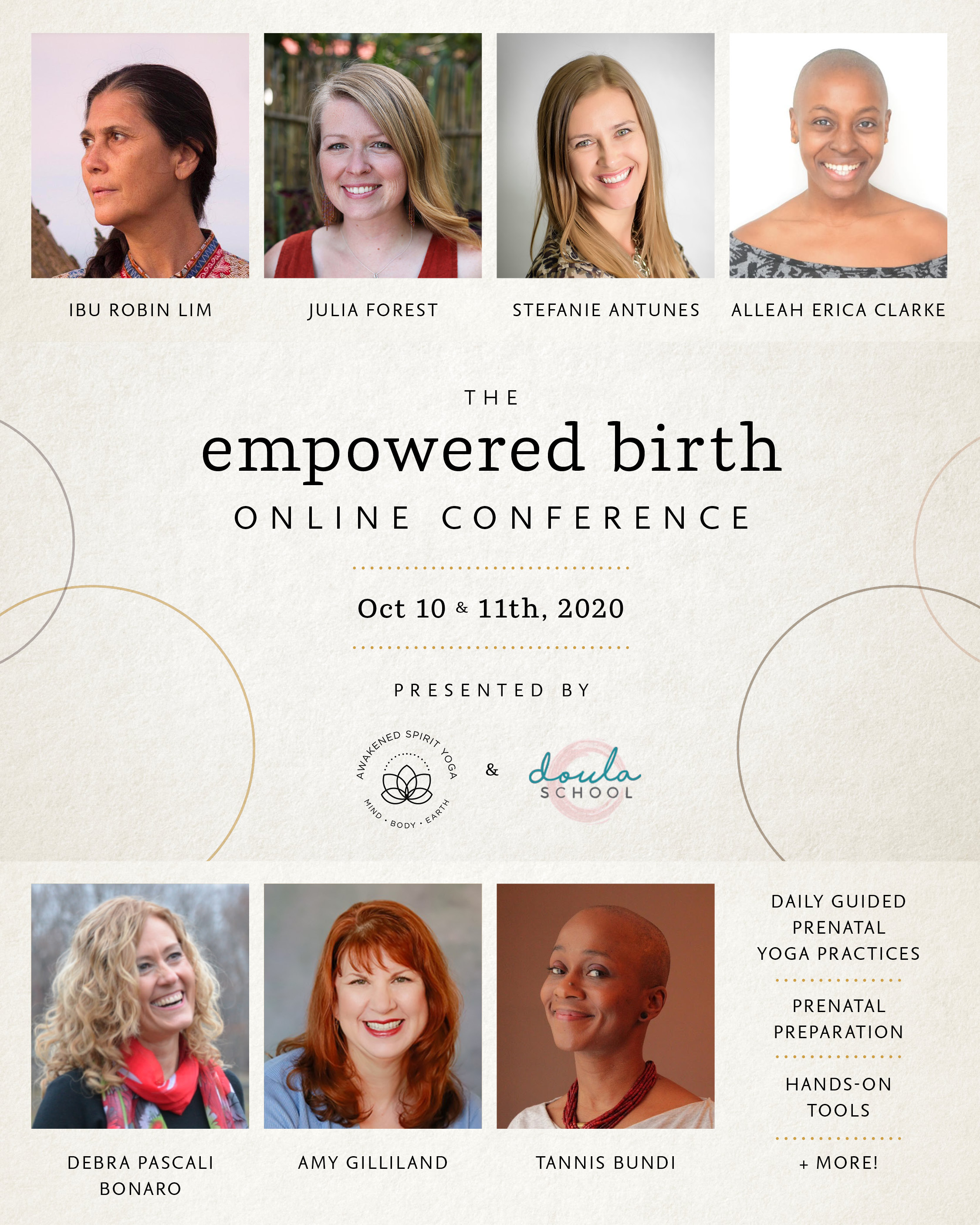 SESSIONS:
SEX AFTER BABY: RECLAIMING YOUR BODY AND SEXUALITY POSTPARTUM
Based on her new book, Debra Pascali-Bonaro will guide you in simple, effective ways to love your new body, connect to your partner, and have even better sex than before baby. Learn her 9 steps to PLEASURES. Join us for this fun conversation about all the things no one is talking about that will change how you feel about Sex After Baby!
SPEAKER: DEBRA PASCALI-BONARO
Debra Pascali-Bonaro is a world-renowned inspirational speaker, filmmaker, doula trainer, childbirth educator, and author. Debra's latest book, an Amazon #1 New Release, The Ultimate Guide to Sex After Baby: Secrets to Love and Intimacy brings together her passion for pleasure in every aspect of life with her Jersey-Girl attitude of talking about what no one is talking about! Debra is a mother, grandmother and featured expert in parenting journals and media around the world.
Debra Pascali-Bonaro is also Co-Chair of the International Childbirth Initiative and Chair of the International MotherBaby Childbirth Initiative both of which promote safe, respectful childbirth maternity care. She is a Lamaze International childbirth educator, birth and postpartum doula trainer with DONA International, Director of the award-winning documentary Orgasmic Birth: The Best-Kept Secret, co-writer of "Orgasmic Birth: Your Guide to a Safe, Satisfying and Pleasurable Birth" and the Founder & President of the revolutionary online childbirth class Pain to Power, which prepares expectant mothers, fathers, and partners to be positively prepared for birth and focuses on the intimate and sacred nature of birth. Debra's passion comes from her over 30 years of working with women, men, midwives, doulas, physicians and nurses in over 40 countries bringing comfort, love, and pleasure to birth and life!
Debra Pascali Bonaro has been featured on ABC's 20/20, Good Morning Russia, The NBC Today Show, Discovery Health, in The New York Times, The LA Times, The UK Times as well as numerous Parenting and Health Magazines around the world.
WORKING WITH THE LABORING BRAIN
Dr. Amy L. Gilliland, PhD, has spent the last ten years studying the laboring brain and fathers and partner experiences. We'll take a unique look at what is really happening in everyone's brain in a birthing room, and cover specific strategies that can optimize labor, birth, infant, breastfeeding, parenting and couple/sexual relationship outcomes.
SPEAKER: AMY GILLILAND
Amy L. Gilliland, Ph.D., AdvCD/BDT(DONA), CSES (AASECT) is a research associate at the University of Wisconsin-Madison, one of the first DONA International birth doula trainers, an adult sexuality educator supervisor, and an infant mental health expert with specialized training in attachment. Her work has been published in multiple peer reviewed journals and in her new book, The Heart of the Doula: Essentials for Practice and Life.


PAIN & COPING AND COMFORT MEASURES
In her two sessions addressing pain and coping, Stefanie will uncover why we feel pain in labour and what we can do about it. Did you know that labour can be painless? Labour can be painful AND enjoyable?
Stefanie will help explain:
Physical and emotional aspects of labour and birth
Coping strategies and comfort measures (including: positioning to facilitate the normal progress of labor and birth, massage techniques to ease the pain of labour and enhance relaxation, understanding the use of heat, cold, pressure and hydrotherapy)
Relaxation skills for use during labour and after pregnancy to relieve stress
Understanding the importance and role of support and the impact on the childbirth experienceLet us guide you to making your birth the most exciting, transformative and enjoyable day of your life.
SPEAKER: STEFANIE ANTUNES
Stefanie Antunes has been a Lamaze® Certified Childbirth Educator and doula since 2002, after the birth of her second son showed her just how valuable it is to be prepared for birth and to have good support around you.
Stefanie is a visionary in the childbirth field. She leads the Discover Birth organization providing a variety of services to expectant parents and training for those wishing to pursue work in the childbirth field. Stefanie is former president of the Association of Ontario Doulas, current Treasurer for DONA International, and sits on many local boards and coalitions to improve our communities. She is a DONA-approved Birth Doula Trainer, and runs a Lamaze Lamaze-Accredited Childbirth Educator Program.
Stefanie is a contributing author in the best selling Power of Women United and the book Bearing Witness: Childbirth Stories Told by Doulas. She is a regular contributing writer and blogger, and has done many interviews online and for TV/radio.
She believes that the world can be a better place if parents can have more positive childbirth experiences, allowing them to bond properly with their babies. She works tirelessly to change the world in this aspect…one family at a time.
MAKING EVERY DAY COUNT
With so many days in the gestational period, magic can be made everyday for an Expectant. When the days, weeks, months leading up to the birth experience are maximised and consciously utilised, an Expectant can build a supportive foundation with essential tools in their and their partner's toolbox. Tap into the power that each day brings and learn key factors that can enhance your gestational and birth experience and birth outcome.
SPEAKER: ALLEAH ERICA CLARKE
Yogini. Philanthropist. Photographer. Teacher. Gestation Coach. Chef. Mom. Virtual Community Assembler. Author.
Alleah Erica Clarke is an anomaly in the birth support conversation. Her greatest joy is aiding Expectants and Partners of Expectants to connect to their inner selves and gestational bodies by way of movement, connections, and conversation. As a Gestation Coach, most of the work she does is helping Expectants and Partners to develop social, physical, emotional, mental, and communication muscles that aid them in fostering healthy, safe, and supportive environments and practices that thrive before, during and beyond the birth experience. Alleah has made it a life-long commitment to support and coach Expectants and partners as a yoga teacher, childbirth educator, Gestation Coach, to have healthier pregnancies, stronger bodies, and foster bonds between mommy, baby and partner, gestationally and in postpartum, while developing stronger communities and partnerships.
PREPARING FOR BIRTH IN TIMES OF CHANGE
Ibu Robin Lim will close our conference with a keynote presentation summarizing her message for birthing people and their support people for how to navigate these ever-changing and challenging birthing times. Her lifetime of experience supporting families to elevate their rights in childbirth will surely inspire us all towards an Empowered Birth.
SPEAKER: IBU ROBIN LIM
Ibu Robin Lim CPM is a Filipino–American midwife, mother, grandmother, and founder of Yayasan Bumi Sehat a non-profit organization in Indonesia. Lim also serves on the board of Bumi–Wadah Philippines, where she is known as "Lola Robin." Her Passion is Human Rights in Childbirth. She believes that each individual is an essential "Piece of Peace" therefore by protecting the mothers in childbirth and the newborns (our smallest citizens of Earth) we may build peace, one Baby, one Mother, one Family at a time.
In 2006 the Alexander Langer Foundation honored Ibu Robin as the Premier Alexander Langer. In 2011 Ibu Robin was chosen CNN Hero of the Year. This gave Midwife–to–Mother care a broader popular platform, worldwide. In 2012 APPPAH, The Association for Pre and Perinatal Psychology and Health, gave Ibu Robin the Jeannine Parvati BirthKeeper award, and in 2016 she became Earth Company's Impact Hero.
Ibu Robin's published books include: Ecology of Gentle Birth, After the Baby's Birth, Wellness for Mothers, Eating for Two (Recipes for Pregnant and Breastfeeding Women), Placenta the Forgotten Chakra, The Geometry of Splitting Souls (Poetry), and Eat Pray Doula.
SPEAKER: TANNIS BUNDI
Tannis Bundi has been a Registered Massage Therapist since 2005 as well as CAPPA trained childbirth educator, birth doula, lactation educator and postpartum doula.
Tannis has recently retired from Massage Therapy and Doula care to focus on "The Green Jar", a package-free refillery in Midtown Toronto, where she is on a mission to eliminate single-use plastics and household waste.
YOGA PRACTICE
Movement has been listed as the number 1 thing to increase health and longevity of life! Yoga practice will be offered twice throughout the conference. Our practice is for all bodies!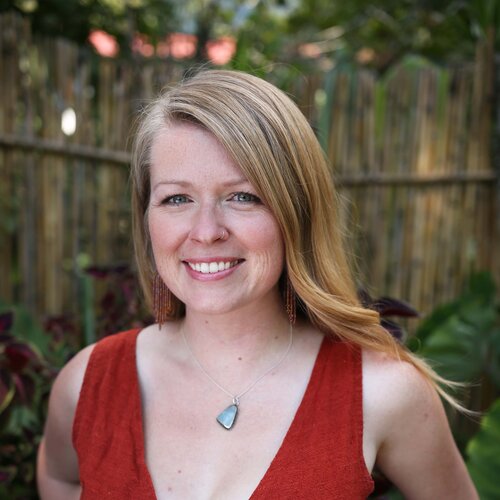 SPEAKER: JULIA FOREST
Julia is an international yoga teacher, birth doula, women's health advocate, and closet artist who is passionate about health, environmentalism and empowered birth. She is co-creator of the Sacred Birth Yoga & Doula Training, is founding director of Awakened Spirit Yoga and co-founder and board member of the Wellkind Foundation, a non-profit that focuses on community empowerment and wellbeing through the lens of permaculture.
With more than 16 years of experience teaching prenatal yoga, her passion has lead her to share holistic prenatal yoga trainings in many countries around the globe. Julia's trauma informed and accessible approach draws from more than 16 years of experience in body-centered therapies and physical rehabilitation. She has taught individuals of many ages and abilities including teens, women who are pre- and post-natal, elders, as well as people living with MS, fibromyalgia, cancer, osteoporosis and chronic pain.
The emphasis in her classes is on alignment, yoga as a tool for transformation, the healing qualities of inner stillness, movement and breath for the cultivation of inner peace, health and wellbeing. She teaches from the heart and creates an environment in which her students can explore and discover their inner wisdom and potential. Julia believes that birth is sacred and that we all have within us what we need to heal ourselves.
Stretch & Release- 5 mobility stretches to keep your pregnant body comfortable
Join us for a 45 minute mobility & movement session. Learn how to activate &release those common tight and restrictive muscles groups that are often impacted during pregnancy and early postpartum. These simple stretches will reduce tension in your body and improve the range of motion between each joint, allowing you to move more comfortably through your day & your pregnancy.
This body session is for EVERY BODY regardless of fitness level or stage of pregnancy.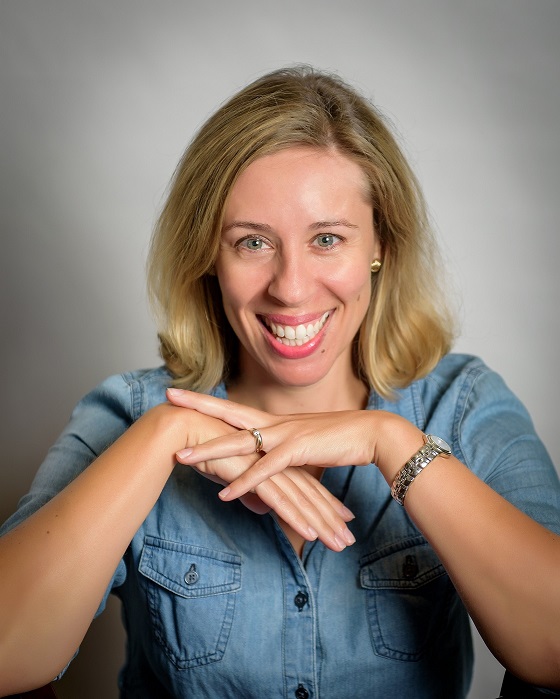 As the proud owner of FITMOM Durham, Jennifer helps women achieve their personal wellness goals and promotes healthy birth experiences for new and expecting moms. With over 17 years in the health & wellness field she brings extensive experience in group facilitation and public speaking, and is skilled in providing enhanced learning and fitness experiences for her clients.
As a Lamaze Certified Childbirth Educator, Jennifer has been teaching prenatal Lamaze classes for over 10 years to families across Durham Region. Her background in Adult Education, Group Facilitation and Public Speaking ensures that your group or private series is fun and informative. She is well known for her sense of humour and past participants often say that attending her classes was the highlight of their week! Jennifer is also a certified Birth Doula with DONA International and feels privileged to provide labour support to the families she works with. She is one of the Co-Program Directors for the Institute of Childbirth Educators.
Most importantly, she is also known as Mom to two busy, growing boys Ben & Jakob.

Prepare For Birth- protect the pelvic floor & more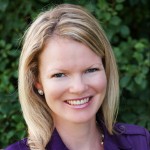 SPEAKER: Dr. Sinéad Dufour
Dr. Sinéad Dufour is an Associate Clinical Professor in the Faculty of Health Science at McMaster University. She teaches and conducts research in both the Schools of Medicine and Rehabilitation Science. She completed her MScPT at McMaster University (2003), her PhD in Health and Rehabilitation Science at Western (2011), and returned to McMaster to complete a post-doctoral fellowship (2013). Her current research interests include: conservative approaches to manage pelvic floor dysfunction, pregnancy-related pelvic-girdle pain, and interprofessional collaborative practice models of service provision to enhance pelvic health. Sinéad stays current clinically through her work as the Director of Pelvic Health Services at The World of my Baby (the WOMB) a family of perinatal care centers in the greater Toronto area. Sinéad has been an active member of the Society of Obstetricians and Gynecologists of Canada (SOGC) sitting of two committees and leading several clinical practice guidelines. Her passion for optimizing perinatal care and associated upstream health promotion for women stemmed from her own experience as a mother of twins. She is an advocate for women's pelvic health and a regular invited speaker at conferences around the world.
Frequently Asked Questions
When does the course start and finish?
The conference runs Saturday, October 10th from 11am to 6:15pm Eastern Time and Sunday October 11th from 1pm to 8pm Eastern Time. Those who purchase the basic access package will have access to all sessions LIVE during the conference and for two weeks following. Those who purchase the regular rate will have access for 3 months, right here in their own account.
I have more questions. Who can I call?
You are welcome to reach out to us at 1-877-BIRTH36 or via email at
[email protected]